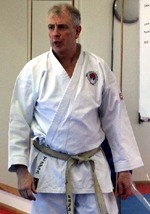 Robert McGrath was born in Dublin in 1961. His older brother Leslie began learning Ed Parkers Kempo Karate in 1964 but after seeing Mr Tatsuo Suzuki on Irish television he changed over to Wado Karate-Do training under Tatsuo Suzuki sensei and Jim Prichard sensei.
In 1973 Leslie took his little brother to his first Karate lesson under Sensei Derek Desmond. Soon Robert McGrath was training five to seven days a week with Sensei Desmond and Iwasaki sensei.
At the age of 19 years he won the all-Ireland Senior Wado Karate Championship, this was an open weight tournament and he won this title for five years. He was also a member of the Aer lingus Karate team, which was unbeaten for ten years.
Between 1981 and 1985, he held many of the Irish National titles (Both Wado & All styles, ONAKAI) both kumite and Kata. He was a member of the (ONAKAI Team) National all styles karate team for over ten years. Competing in WKF and EKF championships.
In 1984 he was a member of the Irish Wado team who went to Japan to study Wado Karate and compete in the Wado Ryu World Karate Championships, marking 50 years of Wado, the team was narrowly beaten in the quarter finals by only a half point. Robert received an award for outstanding fighting spirit. Due to a very bad facial injury he had to retire from Competition karate at the age of 27 years. But in 1994 he entered the WIKF European championship and was defeated in the semi-final round of the Kumite open weight. He won a World WIKF Bronze medal in Dallas Texas in 2005.
In 1985 at the age of 23 years he received his first Dan from Mr Shiomitsu Sensei, then in 1990 he received his second Dan, his third Dan in 1993 his fourth Dan in 1997 his fifth Dan in 2002 and his Sixth Dan in 2008 all graded by Mr Tatsuo Suzuki Sensei. In June 2016 on a training Tour in Japan he was awarded the grade of seventh Dan by Sensei Philip Kear in the presents of Kobayashi Sensei.
In 1993 Mr Suzuki Sensei asked him to be his Chief Instructor for the Republic of Ireland a position he held until 2011 when he stepped down. The Wado International karate-Do Federation in Ireland was founded by Sensei Robert McGrath in 1993.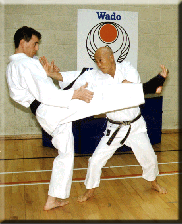 After training on private classes with Sensei Suzuki for dan grade examiner along with Sensei Michael Cole and Sensei Bobby Hamilton, Sensei McGrath was part of the Dan grading panel with Suzuki Sensei from 1998. On this panel he graded students up to fourth dan.
He was always a member of the Kata Referee panel with Suzuki Sensei at both European and World Championships, which he held as a great honour.
Robert McGrath has trained under some of the greatest karate Masters in the World and he is now concentrating on teaching Wado Karate as taught to him by Tatsuo Suzuki Sensei to his students. He holds a level 3 national coaching certificates, awarded by the National Governing Body for Sport in Ireland.
In November of 2014 he obtained the National O.N.A.K.A.I. Referee A level.
On the 25th of April 2015 he was appointed the European Chief Instructor for the WADO KOKUSAI SUZUKI-HA EUROPE
Neuromuscular Physical Therapy
Robert McGrath is Qualified in Neuromuscular Physical Therapy including, Dry Needling Therapy, Event Sports Massage Therapy, Orthopaedic Massage Therapy and Sports Taping and Strapping. He is also a First Aid responder.