I was persuaded by my cousin Les House to join the then Aer Lingus Karate Club back in 1976.
Training was Friday night and Sunday morning in the old ALSAA Swimming Pool complex in Dublin Airport . Irony is, Leslie never turned up for training that Friday night, nor has he ever since. It was in this dojo that I rekindled my friendship with Robert McGrath; we were attending the same secondary School at that time.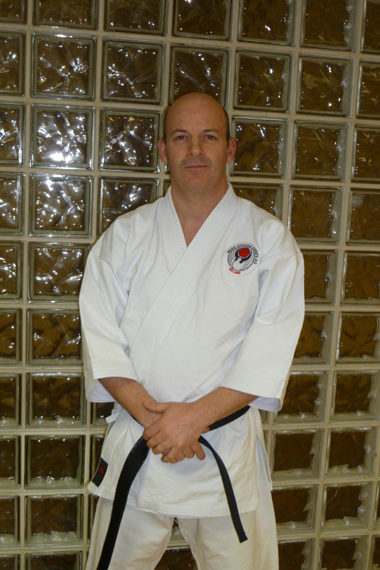 Paddy Davis a green belt (5th. Kyu) took in the membership and also looked after the warm-up and teaching the children that night, But it was the Instructor Derek Desmond who was a second dan black belt and the top Kumite fighter in Ireland at that time, that I inspired to be.
After a couple of months the day arrived that Sensei Derek sent a group of us into the AIKW Hombu dojo, Gardiner St for my first grading. I remember it so well; it was on my birthday October 2 nd 1977. Bernie Brady took in my Application and I was sent into the Dojo to meet Mr Iwasaki Sensei, who had just introduced a new kyu grade, 9 th kyu to the syllabus. We were the first to undergo this examination and this was the beginning of many firsts for me in Wado Karate.
As the years passed I took my Kyu grading up to first kyu under Mr. Iwasaki Sensei and participated in all competition, North and South of Ireland, AIKW and ONAKAI the National governing body for Karate in Ireland , Championships. There were also several International events in Ireland I entered, these were Wado and All-Style championship and were held in the Mansion House and the National Stadium. Sensei Desmond and Mr Iwasaki Sensei had Squad train every week in Gardiner St for the Irish squad and I attended all. But it was always my goal each year to make the Aer Lingus Kumite Team, and this Aer Lingus team beat the best teams in Ireland , right through the eighties, retaining the All-Ireland and All Styles titles for 10 consecutive years.
After the split in Wado in Ireland took place, in 1990. Sensei Desmond brought Tatsuo Suzuki Sensei back to Ireland for a week long intensive training and Dan Grading course. I had trained under several Japanese Instruction before on spring and summer camps. But Suzuki Sensei was the one everyone wanted to train with and grade under. His sharpness and attention to detail made him a true master without question, He was the one who had been imparted with the knowledge from the Founder of Wado - Sensei Hironori Ohtsuka.

As the week went on both Liam Walsh and myself paired off each day under the watchful eye of Suzuki Sensei. Kata and Kihon Kumite were covered each day in detail. Sunday came very quickly and grading time was upon us. Thankfully both Liam and I received first Dan that day, another first for me and the first student under the sole instruction of Sensei Desmond to receive first Dan in Ireland .
Throughout the 90's, I continued to train with Sensei Robert McGrath in WIKF Ireland and went on to receive 2 nd ,3 rd , and 4 th Dan under Suzuki Sensei. In 2009 I was awarded my 5th Dan from Suzuki Sensei an honour I will always treasure and another first, The only Student in Ireland to receive 1 st to 5 th Dan grades from the greatest exponent of Wado Karate in the world. In June 2016 on a training Tour in Japan I was awarded Sixth Dan by Sensei Philip Kear in the presents of Kobayashi Sensei. This was a great honour for me.
In 2008 I received a Level 2 coaching Certificate from Sport Ireland.
In 2012 we honour Suzuki Sensei dream and endeavour to teach his Karate by forming Wado Kokusai Karate-do Ireland . WKKI.
Changing the name to WADO KOKUSAI SUZUKI-HA KARATE-DO IRELAND on the 1st of May 2015 and becoming a founder member of WADO KOKUSAI SUZUKI-HA EUROPE
In November of 2014 I obtained the National O.N.A.K.A.I. Referee B level.