I started training in Shotokan Karate in 1978 in Kilmore West Dublin under the instruction of Sensei Philip McCarthy with the KUGB. In this club, I got to train and grade with some of the top Shotokan instuctors. In this group was Sensei Andy Sherry - Sensei Billy Higgins - Sensei Terry O N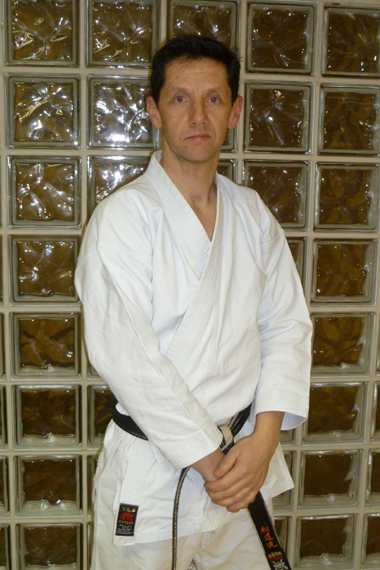 eill - Sensei Frank Brennan and of course K Enoeda Sensei.
I had a lot of local and national competition success as a junior and graded up to First Kyu. In 1985 the club closed down and I ceased training.
I meet Sensei Eamon House at a friend's party in the early 90's he explained he was part of a new federation of Wado Ryu karate and that they trained in my local area. As I still had a passion for karate I asked would it be okay for me to train with them. I started to train with them under the guidance of Sensei Robert McGrath , Sensei Eamon House and Sensei Sean O' Brien. I started from white belt again as this was a new style to me. Saying that, having trained for so long in Shotokan I felt at ease with the change over. Training was hard and it was exactly what I had missed about karate.
After training for a year or more, I was brought into the world of competition karate again, were I was most happy. To stand on the mat in front of your opponent knowing that you have trained hard to be ready to compete in this event was always a joy for me. I had much success in the late 90's and the 2000's in both national and international level. Taking the Gold medal in the Welsh Grand Prix open Championships. This lead the way for me, to be placed in the Medals in nearly all events I entered. I was also a member of the Irish team who beat Italy in the team event at the European WIKF championships in 2001 in Italy to take 3rd place. This was the highest placing for an Irish team at a WIKF International Championship to that date. The following year I took 3 rd place in the WIKF Europeans in Dublin for the individual's kumite event.
As years passed it was the natural progression for me to move from Kumite to kata. Under the instruction of my Sensei's I started to gain success in this field also. I always had a passion for kata and I do believe in all its teachings and the wealth of knowledge in each kata.
All this hard training paid off when I got to the finals of the World Championships2009 in Portugal. Been given the chance to walk out in front of a pack stadium with - Suzuki Sensei in front - Fukazawa Sensei on the right - Sensei Jon Wicks to the left - Sensei Robert McGrath and Sensei Tom Kosslon behind. After performing Bassai and taking 3 rd place for my efforts was a great achievement and knowing my piers all got to watch me was an honour in it's self.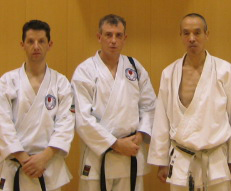 Wado has brought me all over the world with Japan in 2003 been one of the big highlights. Being able to
train with great people who all believe in the true Wado teachings of Hironori Ohtsuka . and Tatsuo Suzuki Sensei.
I have moved up the ranks with my grades over the years, receiving my first Dan in 2000 under Suzuki Sensei. In 2003 I graded under a panel of Suzuki Sensei, Sensei Robert McGrath and Sensei Michael Cole and I was awarded my 2nd Dan. In 2007 I graded under Suzuki Sensei and received my 3rd Dan and most recently in 2011, I was honoured to receive the grade of 4th Dan from Sensei Jon Wicks chief instructor of WIKF and received my Certificate from Suzuki Sensei. In June 2016 on a training tour, in Japan I was awarded 5th Dan by Sensei Philip Kear in the presents of Kobayashi Sensei.
I love to train and now I enjoy teaching. I truly believe to never stop training and always keep your mind open. I also believe in our dojo Kun. Learning from these keeps a clear and level head and helps you on your path.
In 2012 I took over the role of Squad Kumite coach with in our group and am enjoying helping our young members succeed in the competition world.
Sensei Alan Smith Godan (5th Dan)