Two years in the Planning by Sensei Philip Kear 8th Dan and Kobayashi Sensei, our group had the honour of invitations to visit and train in private Dojo's in and around Tokyo Japan.
We set out for an early morning flight and after Cars, Planes ,Trains and Taxi we arrived into our Hotel in Shinjuku, Sensei Phil Kear 8th Dan, was in reception to greet us and bring us around the area to get our bearings and to have some breakfast and organise our train cards. Training that evening was at six pm. Sensei was wondering if we were up to it after all our travel.
Getting into our Rooms and having some rest we gathered in reception and met the rest of our group, from Sweden, Finland, Australia, England and Ireland. The tour had begun a few days before and our late arrival due to flight scheduling, meant we had to be ready for training straight away. The rest of our group had already experience training with Kobayashi Sensei at Uenohara, and with Arakawa Takamasu Sensei and the other Senior Sensei's at the famous Nippon Budokan, and at Arakawa Sensei Shiramizu Dojo in Saitama.
We set out to the Train station which would become a normal ritual for each day. We were invited to train at Sagamihara Dojo with Toshiyuki Iwaki Sensei 8th Dan. This Dojo is part of the Wado Ryu Renmei and Iwaki Toshiyuki Sensei is the Branch Chief Instructor of the Wado Ryu Renmei for the Kanagawa prefecture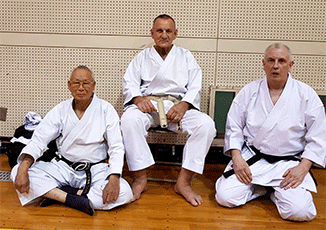 Iwaki Sensei and his students were looking forward to our visit to his Sagamihara dojo in Sagamihara, as one of his Dan grade students Tsuyoshi Ikeda has been training for quite some time in Sydney Australia at the Yu Yu Kan dojo of Sensei Phil Kear. we were met at the station by a welcoming party from the Dojo who brought us to their training hall. The Hall was full of Students from young to old and all training hard. Iwaki Sensei in a conversation with Sensei Robert McGrath revealed he was 81 years young and I use the word Young as his technique and speed are that of a much younger man. The Dojo were very honoured to have Sensei Kear teaching. Sensei Robert and Sensei Alan Smith spent much of the class time training under the watchful eye of these two-great sensei. Kata and Kihon were taught for most of the class, with both Sensei's contributing to the training. The class went very quickly, we were delighted we decided to train, after being awake for 30 hours and loosing 8 hours this was the perfect start to our Japan Training Tour. After lots of gift giving and photos it was time to make our way back to Shinjuku and get some Japanese food.
Monday our second day was a Tour to Visit the Grave sites, this sound surprising and may be grim but it was a great day enjoyed by everyone even those accompanying their partners who didn't train in Karate. First stop was the Family Grave site of Otsuka Sensei's in Fuchu.
A typical Japanese grave is usually a family grave (haka) consisting of a stone monument, with a place for flowers, water in front of the monument and an incense chamber.
Sensei Kear and McGrath laid a bouquet of Flowers and poured water from a ladle over the head stone and bowed in respect to the departed. Water is classed as a purifier and used in many ceremonies in Japan. Each member of our group bowed and poured water over the Head stone. Kobayashi Sensei and his Daughter Miyuki translated the head stones for us. This was a very nice and fulfilling experience.
All back onto the Bus and we moved onto Takao to the Past Emperor's Grave Site. The walk to the Grave site was very beautiful through a Park, we came to the Grave site, Kobayashi Sensei explained how we must show respect at this Grave site, First purify your hands with water, before you walk through the Torii Gate, you bow once, at the grave side you bow deeply twice, then two claps then one deep Bow, as you walked away at the giant Torii Gates, you stop and bow again, we wondered across the Park and came to the grave site of the Emperor's wife were we all payed respects. Sensei brought us to a nearby pond and clapped his hands where the Koi Fish responded and came over to the sound, they were beautiful in colour and so large. We spent some time here in this park just enjoying the nature which was wonderful as this was a grave site, so not depressing at all, like a western grave site.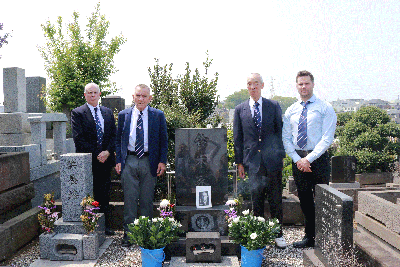 We travelled on to Yokohama Graveyard which was enormous, this was the site of the Suzuki Family grave site. There is a head stones here in memory of Tatsuo Suzuki Sensei. Suzuki Sensei was cremated in London and his ashes scattered in Southern England, Kobayashi Sensei, Sensei Kear and McGrath had attended Suzuki Sensei's Funeral in London.
Again, the head stones were translated for us and each member of our group Bowed and laid a signal flower, Sensei Kear and Kobayashi also laid Incense (osenko). It is custom to put a photo of the deceased at the main stone monument, when paying respects and a Photo of Suzuki Sensei was placed there.
Kobayashi Sensei requested that we perform Nai-hanchi Kata as a fitting memorial to Suzuki Sensei. This was very emotional for the older members of our group, who had spent time with this great teacher of Wado Karate. We spent some time here, (there was no rush to leave) to reflect on Sensei and his teaching.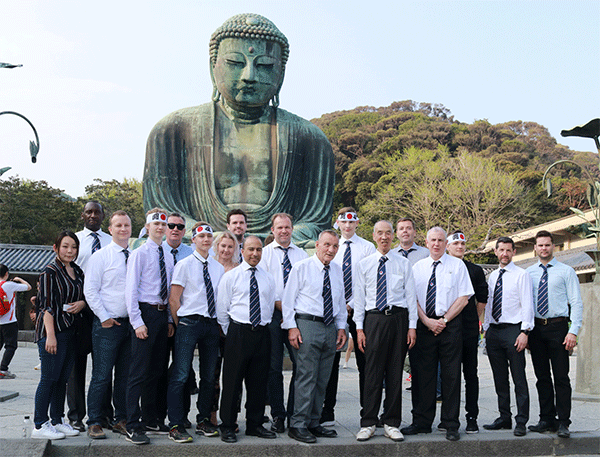 Our last stop was Kamakura where there is a monument to Funakoshi Gichin Sensei the founder of Shotokan Karate, also here is the site of the giant Buddha. We finished our day with a traditional Japanese banquet, this was a great night of friendship toped of by a speech from Kear Sensei.
Tuesday Morning was a chance for us to catch up with some needed sleep. We were out of the Hotel at 9.30am to get breakfast and explore the Shinjuku area, Returning at 3pm to make our way to Uenohara a city located in Yamanashi Prefecture, Where Kobayashi Sensei lives, the train journey was around 45 minutes and Sensei met us at the station to bring us to his Dojo in the Mountain. The view on the drive of the harbour and surrounding was breath taking. The Uenohara Dojo is old school and as Sensei Kear said "Very Famous Dojo". Sensei called us over to show us the Calligraphy of the Dojo Kun brushed by Sensei Suzuki, He and Sensei McGrath had a deep conversation on how straight and perfect the Calligraphy is and urged us to take pictures of it, it was great to see how proud Sensei was of this piece of art. Priceless.
Training was like a private class with Kobayashi and Kear Sensei, from warming up moving on to basic technique and then Makiwara Training (Post striking) The shelf with the trophies was saved a few times before they fell from it, with each punch. Kobayashi Sensei's students have won both Kumite and Kata in All style competition.
As all the students at this training were instructors, sensei went through Kata training to teach how to win at Kata Competition, he emphasised this was not Kata for training or grading but for Competition. This class flew by as it was so interesting having two great Sensei's debating the movements of the kata and How they were trained in these Kata by Grandmaster Hironori Otsuka and Tatsuo Suzuki Sensei.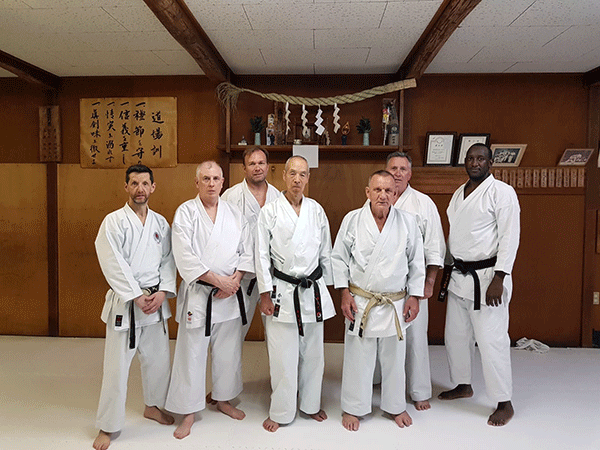 Wednesday was Training again with Sensei Kobayashi in his Dojo in Machida, we had trained there before on our last tour and it is beside his sister's house, this too is an old school Dojo with well-worn target mitts and hand weights which are used daily. Training was broken up with the first hour for us doing Traditional karate training, going through Chinto Kata, then Sensei's students arrived, after doing Kihon training with the hand weights for everyone, including, the youngest students and no complaints or dropping the hand. The class moved on to a fast-paced competition still training, the three Sensei's Kobayashi, Kear and McGrath held target mitts and the students ran through a gruelling amount of drills. The class finished with more Kata, Nai-hanchi kata was the topic, using the natural power, in the way of Shizentai, (natural balance of the body) performing "live" kata, doing it with feeling and purpose, not just doing the kata like a dance.
The class came to an end and the usual photo taking and Sensei McGrath and Smith gave gifts to Sensei of a Bottle of Irish Whiskey and some cans of Guinness as this is a favourite drink for him. He said I'll have one of these later. Sensei Kear had gifts for all the students as did Sensei McGrath. We also had Boxes of Irish chocolate for Sensei's Sister, Daughter and Niece. These ladies along with some parents of the students laid out tables with home grown and cooked Japanese food and Drinks. Sensei opened one of the Cans of Guinness, with a big smile.
Just before the end of Class Sensei McGrath and Smith wives arrived in dressed in Japanese Yukata (casual summer kimono) which were organised and fitted by Mie and Miyuki. They were both over joyed and looked beautiful.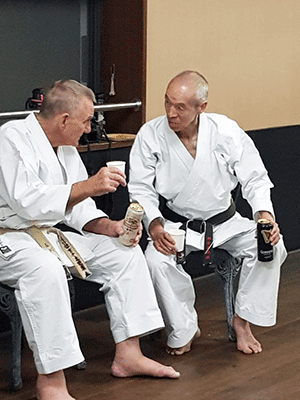 Later in the evening Sensei was heard saying to Sensei McGrath I'll have one more (Can of Guinness) The evening was a high light of the trip, Kobayashi Sensei and his family are so warm and friendly, and nothing is too much for them to help with.
Thursday was exploring Shibuya the shopping area of Tokyo with all the big-name shops. Training that evening was in the Nihon Budokan with Arakawa Sensei who is part of the Wado Kai Technical Committee. He is also Senior Instructor and lecturer at the Kokusai Budo University, where he teaches Wado Ryu and Goju Ryu Karate.
Training was again Kihon followed by Kata Seishan in detail. Arakawa Sensei spent some time explaining and stressing the importance of the practice of Nai Hanchi and Seishan Kata in Wado also an explanation about the origins of the Kata and how it differs from Goju Karate coming from Okinawa. Arakawa Sensei practices Goju Ryu Karate with the Jundokan of Miyazato Eichi Sensei.
We finished the class with Kihon Kumite and Arakawa Sensei explained the movement and introduced other movements which we train in, It was interesting to see the respect given to Sensei Kear by the Instructors in the Budokan as they ask his opinion on techniques they were teaching. We had invitations from Toya Sensei and other Senior Sensei to train in their Dojos but we were unable to attend as we already had committed to training elsewhere. We promised on out next Tour we would visit their Dojos for training. After training, Arakawa Sensei brought us to a near by Chinese restaurant for a Meal and this was a great evening of Karate Talk. He also invited us to his course in Germany in June, as the German Instructor was with us in the restaurant and shared his details with Alan Sensei.
Sensei Kear said "The receptions we experienced from each of the Japanese dojo's on this tour was exceptional. Having Arakawa Sensei stand to attention and Salute me, at the last Thursday Budokan training said it all, priceless."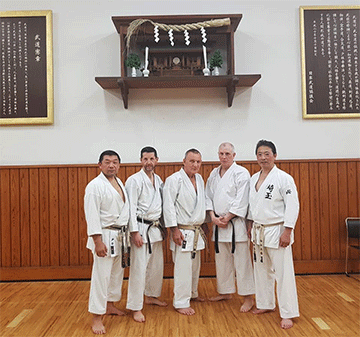 This was the last day of training with the most travelling home on the Friday. Another day for us to exploring Tokyo and a great night with Sensei Phil Kear helping us order and cook grilled meat Yaki Niku.
Saturday was the bullet train to Kyoto. We did a lot of sightseeing over two days, the place Sensei Rob wanted to see, as he had never been there, was the Fushimi Inari Shrine the 1000s of torii gates, well, we went to the top, Sensei Said "I didn't realise how far up it was, each level as we arrived at a Shrine, we thought YES we are here, but no up another level, on the IPhone it stated it was over 1,500 steps and 52 floors climbed. To say my quad muscles were painful was an understatement"
We spent our last night in Tokyo and over a few beers reminisced what a great time we had and the great experience we had.
The trip was brilliant the warmth and friendliness of the people was, As Sensei Kear said was "exceptional". Plans are already under way for our next trip and Sensei Kear last words on our 2019 tour, to us was,
"So I hope everyone takes all experiences from the tour to enhance their Wado and training and look forward to better and bigger achievements in the future."